OneWheel has become a major proponent for their trademarked single-wheel electric skateboards. Their first product was successfully launched off of Kickstarter, and their unique design and build has since impressed many reviewers and users alike. Their trademarked design element is pretty unique, and it offers an excellent alternative to regular transportation.
The OneWheel off-road electric skateboard comes in a single color option, but hosts an array of exclusive features. It showcases a unique build and design element that is pretty new to this market of electric skateboards.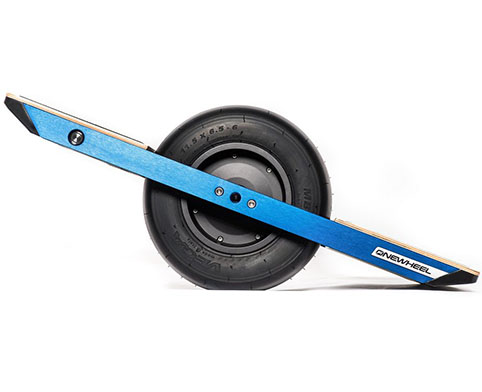 Major Specifications
| | |
| --- | --- |
| Color | Blue Black |
| Max Speed | 15 miles per hour |
| Range (per charge) | 7.7 miles |
| Power | 500 watts |
| Weight | 24.5 pounds |
| Wheel Size | 11.5 x 6.5 inches 6 VEGA |
| Size/Dimension (LxWxH) | 11.5 x 9 x 30 inches |
| Material | CNC 6061 billet aluminum |
| Warranty | – |
| Bluetooth | Yes |
| Remote Control | No |
| Dedicated App | Yes |
| Uphill Climbing Capacity | 20% Hill Grade |


Design and Build
As far as the design elements of this electric skateboard is concerned, it must be mentioned that the board has been built quite well. The construction looks basic but is very sturdy. It weighs around 25 lbs. so it is a heavy board. Still, that does not affect the top speed or ride quality of this skateboard. Its build consists of a thick metal chassis, along with wooden pads and a thick single tire.
The material used in the frame of this board is CNC 6061 billet aluminum. So, you can easily imagine how stable and effective this board can be. In addition to that, the frame has a power button on one side, and its USB charging port on the other. The single tire is fixed in the middle of the frame, with tires measuring around 11.5 x 6.5 inches. The brushless motor is connected at the back, along with a 5 ply Canadian Maple Wood foot pad. There is also a plastic bumper at the underside of the metal frame. There are provisions for installing LED lights on this bumper, and the direction of motion influences its lighting.
Power and Performance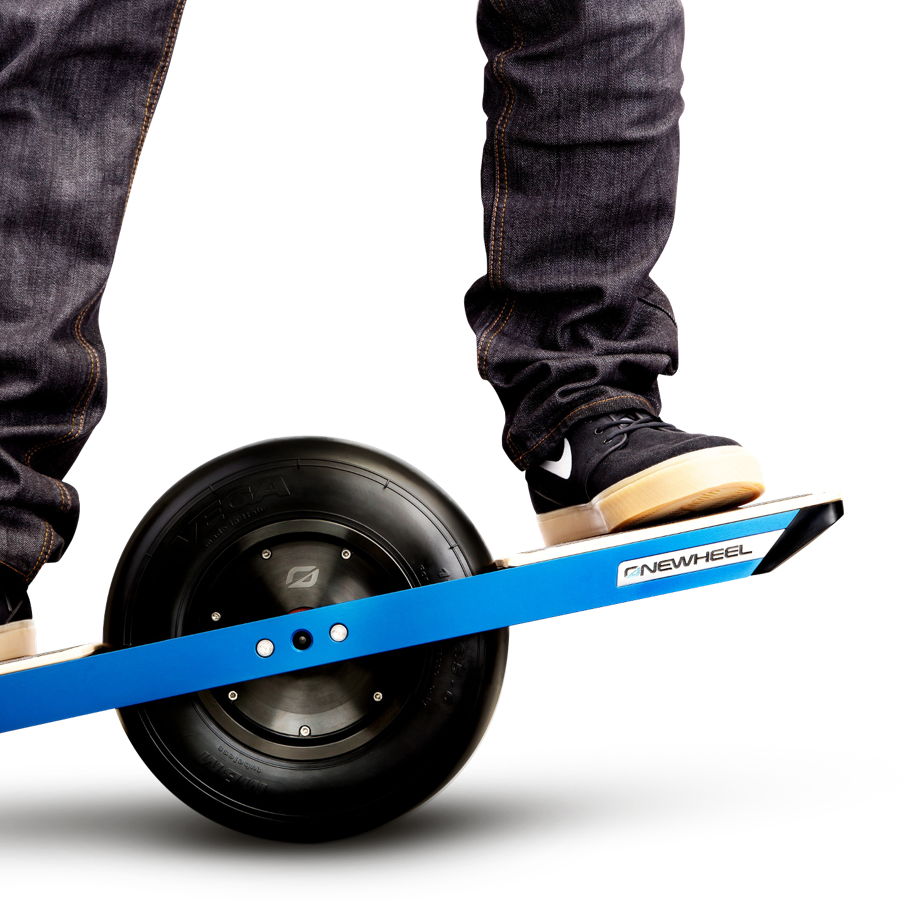 The power features of this electric skateboard come from its 500 watts traverse flux hub brushless motor. This motor functions very well in rugged terrain and off-road activities. Along with that, this model features a 48 V Lithium Iron Phosphate (LiFePo4) battery which is quite sufficient. It can be completely charged within 60 minutes. On a performance scale, this skateboard does quite well. It can easily cover around 7 to 8 miles on a single charge.
Its top speed has been noted to be around 15 miles per hour, even though the skateboard performs the smoothest at around 12-13 miles per hour range. This skateboard can easily cover small bumps and dips, along with an excellent hill climb gradient. Moving uphill is no longer a challenge with this board as it has a 20% hill climb gradient.
Safety Features
As far as the safety features of this electric skateboard is concerned, OneWheel has already stated that this board is very sturdy and stable during motion. In addition to that, this electric skateboard incorporates various additional safety components to make this board a go-to ride for daily commuting. What are they? Let's check them out
The battery life for this skateboard is pretty good. So, you can easily use this board to travel farther distances without worrying about its charging.
The back-bumper design helps the skateboarder to shifty his/her weight appropriately and maintain a stable posture while travelling fast.
The LED lights on the back bumper correctly tracks the motion of the pad. This ensures the user that he/she can move forwards and backwards in quick successions without rolling off the board.
The construction of this board is absolutely top notch.
The dedicated smartphone app that comes with this model features different functionalities, such as a "Learn" section for beginners and a "Settings" tab to adjust the ride according to your preference.
Is OneWheel Off-Road E-Skateboard Worth its Cost?
The OneWheel is available in all major international stores. Even though the price tag is a bit on the expensive side, but the technology associated with this electric skateboard cannot be found elsewhere. It runs very smoothly and offers a much better option for daily commuting than most other skateboards in this price range.
Still, this particular OneWheel product is a must buy for those who use an electric skateboard to commute. Other than that, this skateboard also allows you to perform cool recreational skateboard tricks on it. The components of this board are made up of top quality materials. So, all in all, it can easily be said that the OneWheel Off-Road skateboard is definitely worth its price!