Segway has been in the self-balancing electric vehicle business since 2004. In that time, they've become a household name around the world, and for good reason: their products are high quality, safe and fun. Their Segway x2 SE personal transporter (PT), released in 2014, was marketed as a vehicle to take you anywhere you want to go.
Right off the bat, it's easy to see how slick the x2 SE looks – like a beast. The x2 was superficially designed for rough terrain, such as sand, graveled pathways, hiking trails, etc. Hence the "monster"-looking wheels, which were crafted using larger threads to accommodate less-orthodox and less normal riding environments. The tires are a whopping 21", thus explaining how it can handle rougher terrain with relative ease.
How Fast Is Too Fast?
There's no doubt about it, these things are fun – pure and simple. However, it's worth talking about the max. speed of the Segway x2 SE. At 12.5 mph (20 km/h), you certainly don't think it's a fast vehicle… but trust me, once you climb on this thing an take it for a joyride… you'll see just how more-than-zoom-speed 12.5 mph actually is. In fact, it's easy to see (on YouTube) one of the biggest reasons most people "failed" on Segways (and Segway Clones) is because they went too fast. It's easy to see that a large amount of people feel "unsafe" the first few times they mount a Segway – hence the familiar, unpredictable "penguin wobble" many riders experience when they climb aboard.
However, it's worth knowing that Segway has "speed freaks" in mind, or people who accidentally go too fast. The x2 SE was designed with a safety feature – when you reach top speeds or go too fast, you'll feel some "resistance" from the leanSteer frame. This "push back" is the machine telling you that it's time to slow down.
Plus, depending on how fast you actually intend to go, you can expect to travel up to 12 miles (19 km) in one continuous riding session. If you're concerned about your weight, know that the Segway is 120 lbs. (55 kgs.) This means that it can carry heavier-set people (such as myself at 180 lbs.) with relative ease. In fact, the x2 SE can carry up to 270 lbs. (122 kgs.)
Taking It For a Spin
True, Segways do take a minimal "adjustment" to get used to. Thankfully, the learning curve isn't as steep as it is with Hoverboards and other self-balancing scooters. This is because the riding mechanics are simple (and become intuitive over time): to go forward, all you have to do is merely lean forwards. To stop, lean backwards – and lean backwards some more to move… well… backwards.
And while the primary use of the Segway x2 SE PT was designed for off-road, you can use it on flat-terrain as well (such as sidewalks and paved pathways) on your stroll to a nearby store or local park. However, you'll get the most use out of this monster when you take it off-road.
How Does It Work?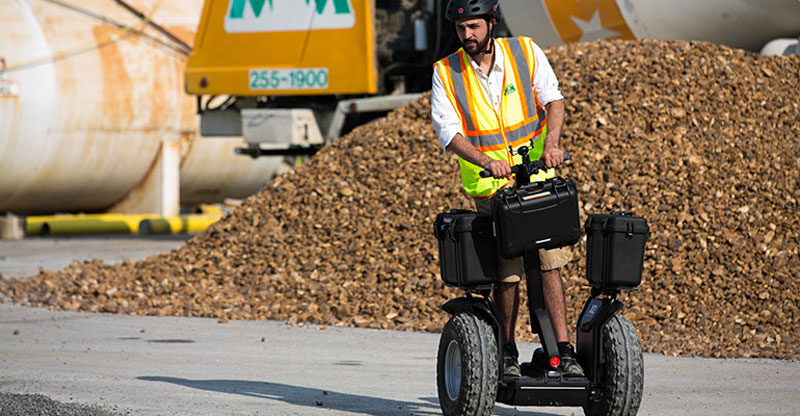 In the form of wheels, motors, and a series of angular-rate and tilt sensors, the Segway x2 monitor (in fractions of a millisecond) balancing levels to "feel" when and if you're about to tip over. When a lot of people talk about the Segway being a machine, they are being very literal – as there are 10 micro-processors in the "motherboard."
With Your Security In Mind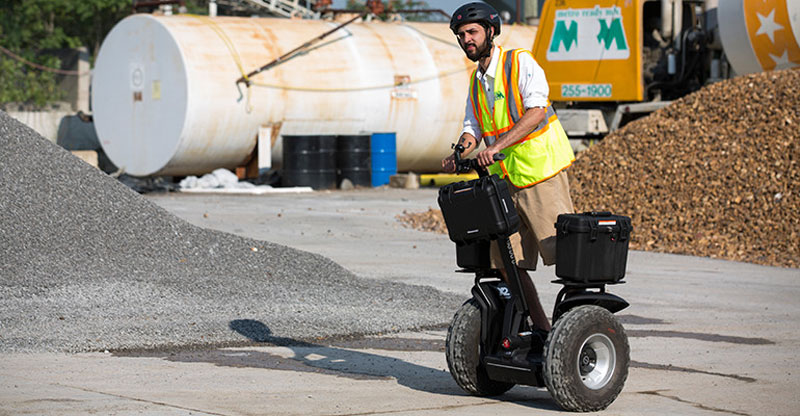 What's incredibly thoughtful about the x2 SE is the fact that, the "InfoKey" (which sits on top of the leanSteer frame in front of you) is a device that controls and monitors the time, date, battery life, etc. Segway has a penchant for keeping the security of riders in mind. This is no different in the x2. When you're finished riding the x2 (for whatever reason – whether it's to stop and smell the roses, park it, charge it while you go into a shop, etc.), simply remove the InfoKey; it can be used as an alarm. While you're away from your vehicle and someone tries to grab it, the InfoKey "locks" the vehicle preventing them from doing so. How? By beeping (as an alarm would) when someone tries taking the Segway, as well as locking the wheels, preventing the would-be thief from "hacking" the Segway and riding off into the distance.
A Fresh Look
The Segway x2 SE PT comes in two models: the "standard" model and the Adventure model. While the specs and mechanics of the two models are similar, it's their colour (and usage intentions) that truly separate them. Here's why: the Adventure model is patterned after "Mossy Oak Break Up Infinity" camouflage. This makes it the ideal choice for nature lovers or park enthusiasts who want to blend into the forest and environment, without the hassle of traveling on foot.
What's It Going to Cost?
As of this writing: ~$7,000.00. Yes, the Segway x2 SE is very expensive, and not for the faint-hearted or "weekend warrior" who takes this thing out a few times and then stores it in the garage. Segways, their clones, Hoverboards, electric scooters, etc. are all serious investments that require proper research to ensure you find the vehicle that's right for you or your family.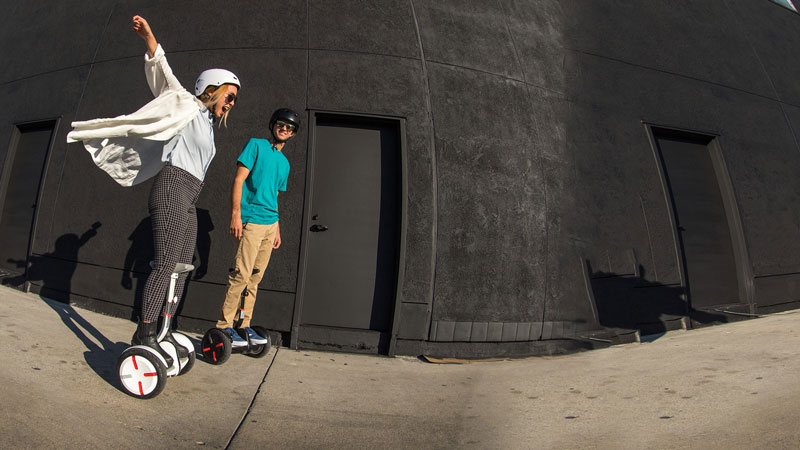 However, personally speaking, whenever you take a Segway x2 SE for a test spin joyride and spend more than a few hours on it… You will understand the hefty price-tag. Being able to easily travel through brush-dense forests and rough-terrain environments, an almost intuitive balancing focus, and ease of mobility make it (in my opinion) worth the several thousand dollars.
Conclusion
Plus, it looks awesome. Let's be honest: When Segway launched in the dinosaur age of tech (2004), their products looked like it was specifically for tech geeks and nerds. A lot's changed in the past decade, however, and the x2 SE proves that: the thing looks like a serious force to be reckoned with, and will definitely help you turn heads when you're out and about. (Plus, it'll show people that you have money and are doing well in life – and who doesn't enjoy showing off a little bit?)
Also Checkout the Reviews of Other Self-Balancing Electric Vehicles: