Update: Razor Hovertrax 2.0 is no longer available. Check out better alternatives here.
Hoverboards have quickly taken the world by storm during the last year and half. No doubt Justin Bieber and Chris Brown touting themselves in social media – sharing videos of themselves riding these things in malls, stores, and parking lots has improved the popularity of boards.
Until fairly recently, self-balancing scooters weren't affordable for the average consumer, and were considered "luxury items" – and poor sales reflected this marketing angle. That all changed when manufacturers decided to lower their prices… and thus began the "Hoverboard Domination" age of the 21st century.
Razor's name (since the late '99s and early '00s) has been synonymous with high-quality scooters. Remember those folding kick scooters that were all the rage way back when? (I do.) If you're a tech geek, Razor is to scooters what EVGA is to computers.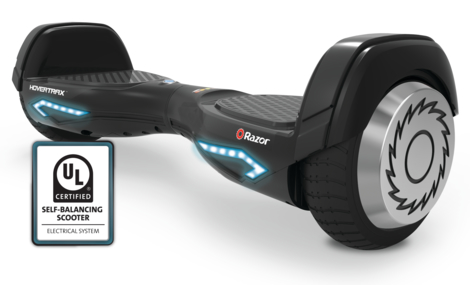 Razor is, in so many words, a benchmark of high quality.
It's no surprise that one of their hoverboards (which are all anybody talks about these days), the Hovertrax 2.0, matches the standard of their brand name excellence. In fact, this patented board (US Patent no. 8,738,278) is UL 2272 certified – meaning it met the industry's electrical and safety standards.
Even so, there are a lot of hoverboards on the market today. Such as the FutureSaw ($600), Epikgo ($500-700), Skque X1 ($250-450), etc. So what makes the Hovertrax 2.0 different from the competition?
At the core of the issue: most hoverboards, at first glance, resemble each other. It is in fact hard to look at 2 completely different hoverboards in varying prices ($200 vs. $400) and discern which board belongs to which price from a quick glance.
Upon closer inspection, however, and you'll quickly spot which the cheap $200 is. Usually. Razor has a reputation for building quality products, at affordable prices, that perform excellently and look incredibly awesome – as if it costs a lot more than the sale price. (Similar to finding a gorgeous top at Value Village or Salvation Army – nobody would ever know you bought a seemingly $80 article for less than $20.)
That said, this product is between $300-430. Which, personally, is a real bargain when you consider all the beautiful safety features the Hovertrax 2.0 provides.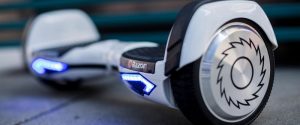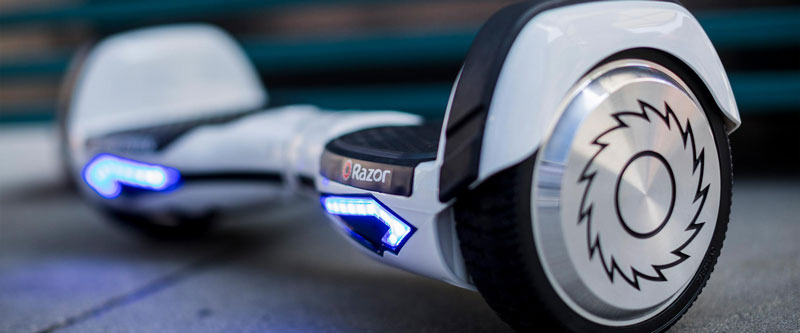 Another aspect that separates this from the others is Razor's EverBalance technology. Razor founder and CEO Carlton Calvin said their exlusive EverBalance technology "auto-levels auto-levels for the smoothest ride possible." What this means is each board has foot-controlled multi-sensor tech that precisely (and accurately) responds to foot pressure, as opposed to single-sensor foot pads many boards have.
This multi-sensor tech makes the product incredibly easy to step onto, step off, and maneuver for people who may have trouble coordinating – such as children and older adults. Regardless of age, the technology is extremely sensitive than most boards, greatly reducing the learning curve for new and experienced users alike.
This board is similar to other ones when it comes to weight capacity: ~220 lbs. (Which is the industry standard.)
A drastic difference between Hovertrax 2.0 and other scooters is its' range: 12 whopping miles of travel time (
about an hour of straight, continuous use). This is a huge factor if you're considering other scooters – as the typical range varies: such as…
Skque X1 – 20km/~12 miles
Epikgo – 10 miles
FutureSaw – 20km/~12 miles
What separates the Hovertrax 2.0 from those boards is that it is almost two hundred dollars less than those boards. (The Skque X1 is $250-$450, and the EPIKGO is $700+.) Also worth noting is that a lot of the higher-priced boards are all-terrain vehicles, specifically designed to handle off-road (gravel, sand, mud, etc.) whereas the Hovertrax 2.0 is not.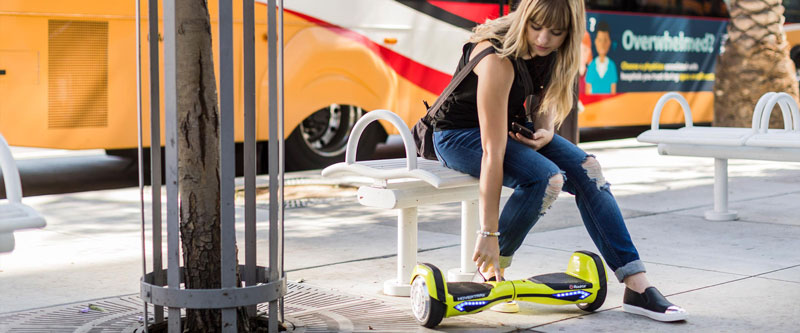 Even so, the fact you can go so far on one battery charge is a tremendous feat in and of itself. So this is perfect if you want to go somewhere new in town. The really beautiful part is the board takes roughly 2 ½ hours to charge to a full battery. I love taking this thing into town (I live 30 minutes outside of the "civilised" community), stop in at a coffee shop, charge this baby up while enjoying coffee and catching up on my RSS feeds for a few hours, then continue riding again.
One of the downsides of this board is its speed: which tops out at ~8mph. This speed is comparably slower to other boards, such as…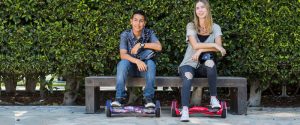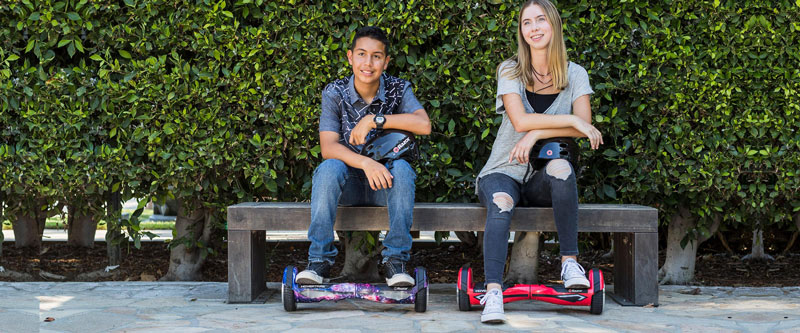 However, there are quite a few boards with max speeds of 6mph. It's also worth noting that 8mph is almost the industry-standard speed for most hoverboards – as 8mph is not slow for a self-balancing scooter. The speed of the Hovertrax also makes it perfect for newbies and beginners who may not necessarily want to travel at high speeds. (Thus ensuring the safety of inexperienced users who are scared of falling off or slipping unexpectedly.)
This downside needs a drastic improvement in speed, as it is one of the slowest hoverboards out there – for the casual, adult user. To ensure the safety of adolescent users and children (9-17), however, the slow speed is absolutely perfect for people who are accident-prone (myself included).
Another downside (which isn't really a downside at all) is its inability to travel off-road, like gravel and rocky surfaces. This is a downside to many people, for some reason. Which is baffling, since a lot of hoverboards were never actually designed to be used off paved surfaces in the first place. The Hovertrax is a "flat-surface-only" board, meaning it is to be used on only flat surfaces such as indoor floors and completely-smooth paved roads.
Despite these drawbacks, Razor has forgone the many bells and whistles of other boards. INstead, they focused most of their craftsmanship ensuring the optimum high quality of their Hovertrax – in their typical, satisfaction-guaranteed fashion.
(Remember, Razor was one of the first–if not the first–manufacturers of riding scooters decades ago. You know, those 2-wheel scooters with the hands that, more often than not, would slam into your shin when you tried to do a flip. Good times!)
Also Checkout the Reviews of Other Self-Balancing Scooters As Well: