For just $349.00, whether you're a total newbie or an experienced rider, the Hoverzon hoverboard is designed for everybody – regardless of age or experience level. Additionally, it's UL2272-certified, meaning it underwent (and passed) over a hundred industry-standard safety and electrical tests.
While it's true that a number of hoverboards exploded in the past, severely injuring hundreds of riders across the country… those accidents occurred early in the history of hoverboards. Today, however, hoverboards are designed to surpass the aforementioned tests – and are not released to the public (from quality and trusted manufacturers) if they fail. In fact, the tests are voluntary – and any board that isn't UL2272-certified is not to be trusted. Even if the non-UL board is hundreds of dollars cheaper. UL2272-certified scooters are the safest hoverboards out there.
Today, most injuries (while uncommon, do happen) are a result of falling off when riders introduce themselves to the board and are adjusting to the learning curve. This can be handled by merely getting used to the steep learning curve of hoverboard riding. (Do you often "get something right" the first time you tried it? Me neither.)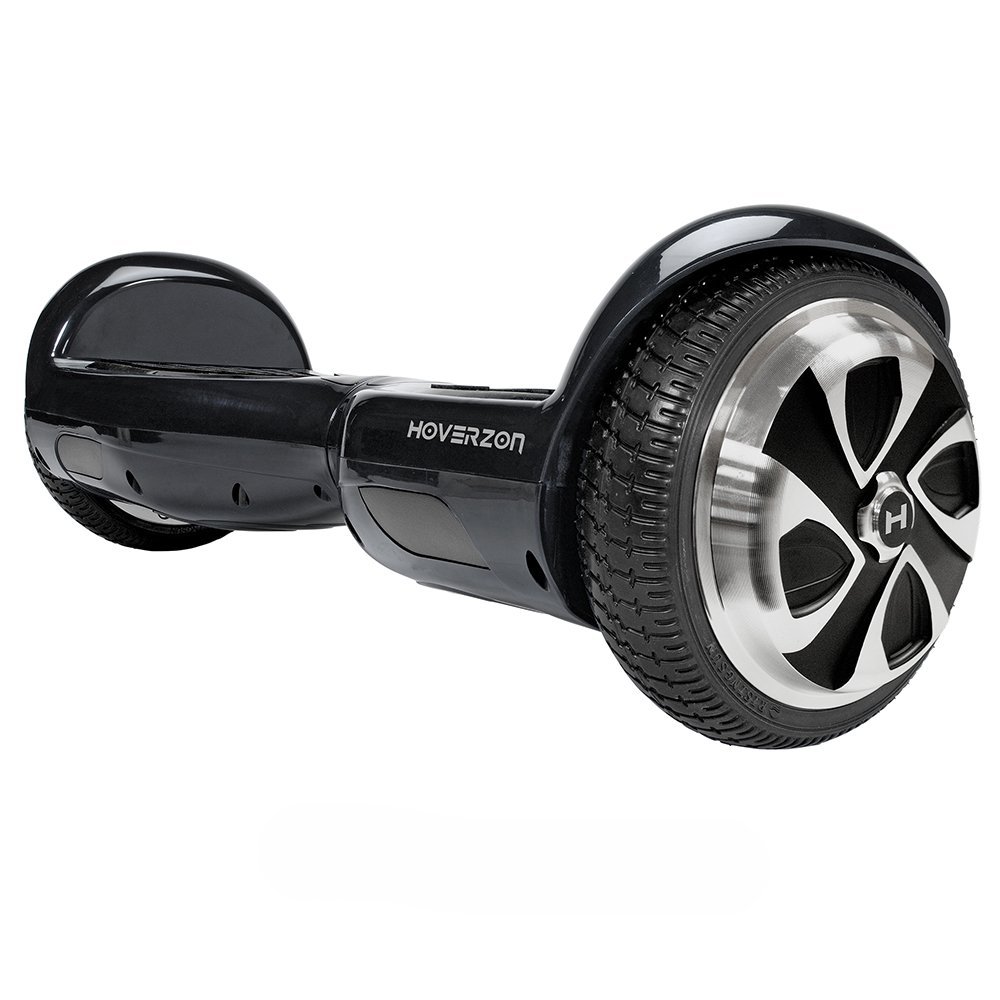 However, in the increasingly-rare chance that a board does explode or catch fire (usually due to battery issues and overcharging them), the exterior casing of all quality hoverboards are fireproof, thus protecting the user from harm as much as possible.
Hoverzon took it one step further in their crusade for safety with their Hoverzon S Self-Balancing Hoverboard: their Aegis Armor Battery Protection is a multi-layer design that covers the battery. In the rare event that a battery does malfunction, the Aegis Armor is literally a "shield" which protects battery from other parts, components and the rider.
Not content to stop there, Hoverzon went even farther in the crusade against harm… by utilising "Smart Battery Management." The management system improves the rechargeable battery's performance, which prevents overheating and overcharging. (Note: The Hoverzon S board needs only 2-3 full hours to charge (which might be a long time for some people), and does not require an overnight charge to run – in fact, charging hoverboards overnight is discouraged by most manufacturers.)
A drawback in this area is that there's no "overcharging protection," which means you must pay attention to the battery's charging progress and frequently keep an eye on it to ensure it doesn't overcharge. (Overcharging batteries is generally responsible today for board malfunctions.)
Another drawback is that app integration isn't a part of Hoverzon S models, and changing settings via your smartphone is something to be desired in future Hoverzon boards. Personally, I prefer Hoverzon's Aegis Armor technology over app integration – as safety is more important to me. (Plus, it's also self-balancing, meaning you don't have to put a lot of legwork into keeping yourself steady.)
Now that safety issues have been addressed, let's take a look at what separates the Hoverzon S from other self-balancing scooters. As well as studying pros and cons about this board in particular.
The Hoverzon S has two speed modes – practice mode and pro. Practice mode is intended for beginners learning how to ride, or for casual riders who merely want to travel at slower speeds. The regular mode, on the other hand, lets riders roll at top speeds: ~8mph. On a single battery charge, riders can travel up to 12 miles/19km before needing to recharge the battery. (12 miles is a relatively long distance when you think about it.)
While 8mph doesn't seem fast, the fact it does go this fast is largely thanks to the single 250-watt motor. What's remarkable is that the motor reaches 8mph with one motor… whereas some boards with dual motors only reach ~11-12mph. Considering the light weight of the board, this makes sense, and it is not hyperbole in the least to say: this board is fast in the hoverboard world for having only one motor. (If it can do that with one, imagine if it had two motors!)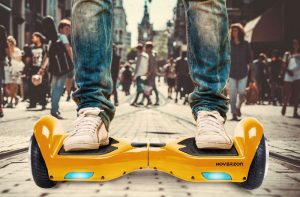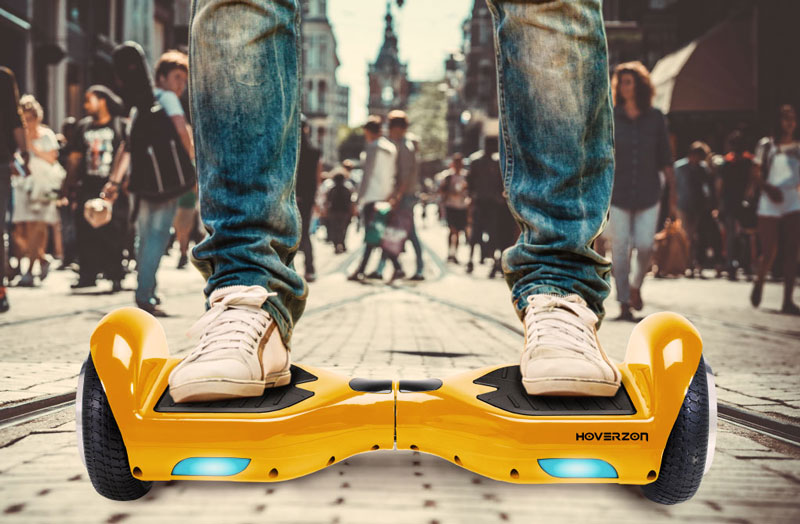 The Hoverzon S board can carry up to 220lbs. (100kgs.), which is standard in the hoverboard world. The amazing thing is the board weighs ~22lbs. (10kgs.) This is phenomenally light for a board that carries that much weight. Unfortunately, 22lbs. is still an issue if you're not used to carrying that weight, or intend to carry it for an extended length of time.
A drawback is that the package doesn't come with a carrying bag, which would make lugging around ~22lbs. far easier. However, carrying bags for self-balancing scooters are relatively inexpensive ($14.00-$40.00, depending on whether or not you buy a "general" bag or one from the hoverboard manufacturer, designed specifically for that brand's boards|) and can easily be ordered either on the manufacturer website or Amazon.com.
While most manufacturers make self-balancing scooters in two colours (white, black, and occasionally red), the Hoverzon S comes in white, bold, blue, pink and (of course) red. As you'll immediately see, the aesthetic looks expensive and looks like high quality material. The aluminum wheels give the board a nice touch, and the mudguard shape is fairly more elegant than other standard boards.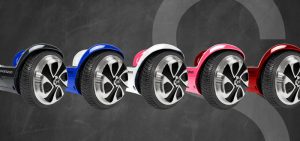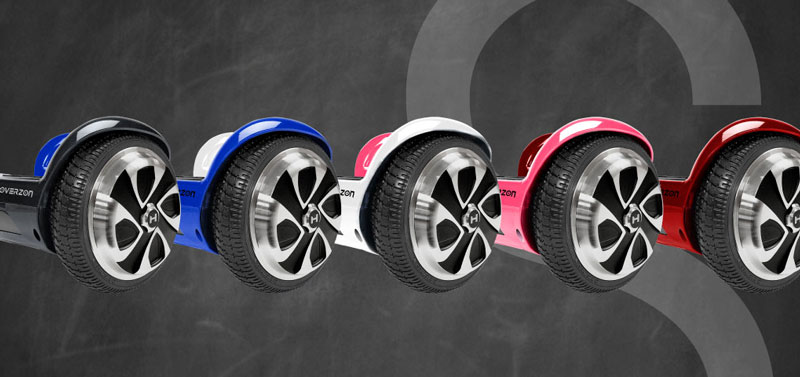 One of the main (if not the only) con of the Hoverzon S hoverboard is the learning curve. In actuality, the time it takes you to get used to the controls and how to maneuver the device is no different than any other hoverboard's learning curve.
Riders can take the Hoverzon S out for a roll after it rains, slip-free, and even trail over small environmental debris (bits of sand, pebble, small uneven terrain, etc.) even though it isn't designed as an off-terrain scooter! The Hoverzon S, quite simply, can travel on terrain where normal no-terrain scooters have trouble on.
While primarily designed for even sidewalks and paved roads, the Hoverzon S can ride on uneven grassy surfaces like your backyard or the grass on your local park. Just be sure not to take it down any gravel paths or backwoods trails – as the scooter will have trouble then.
You Can Also Try These Amazing Self-Balancing Scooters As Well: