When all-terrain hoverboards like the EPIKGO and Halo Rover dominated the buying market in 2016, Swagtron (who previously released the T1, T3 and T5) stepped up their game and introduced the sexy powerhouse: the Swagtron T6.
What's different this time around? The T6 is an all-terrain self-balancing scooter. The previous "T"'s were specifically designed for indoor use and flat, evenly-paved surfaces, following the vein of many hoverboards on the market today – intended largely for beginners and rookies who want to get comfortable with the wonderful world of electric boards.
Most boards made today are UL 2272-certified, which is the industry-standard test required for the safety of hoverboards. Boards with a UL 2272 certificate meet and pass hundreds of safety and electrical tests, guaranteeing rider safety. Any board without a UL2772 certificate should be ridden at the rider's own risk: as boards without a certificate are liable to explode and the battery to catch fire.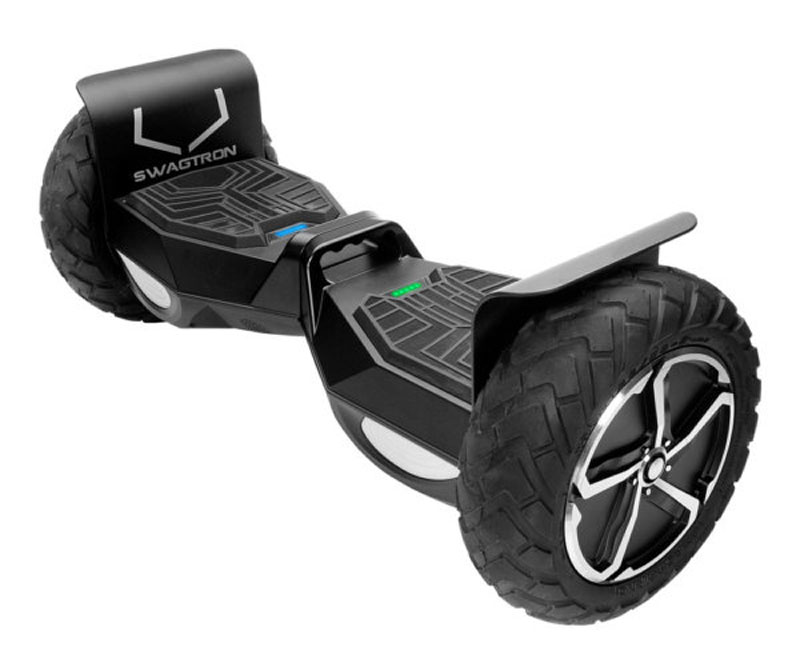 Since quality manufacturers produce UL2272-certified boards at an alarming rate, Swagtron, in their design and manufacturing for the complete and total safety of every rider, took their safety measures one step farther. From their own website, they said "We also meet/exceed UN38.3, DOT, FCC, and ROhS requirements as well as conforming to ASTM standards."
(I personally don't know what that means, but it's impressive.)
Also impressive is the fact that the T6 is rated IPX4, which means it's watersplash-proof and dust-proof. (Note, however, that "watersplash-proof" does not mean waterproof. Do not submerge any electric device in water.)
What really separates the Swagtron T6 from other boards? Its tire size, for one. Swagtron put massive 10" inflatable rubber tires on their latest baby, which are mounted on sexy aluminum rims. By comparison, most industry-standard scooters come with 8.5" tire sizes.
At the time of release (February earlier this year), it came equipped with dual 350W motors (700W total). This made the Swagtron a force to be reckoned with, as it was one of the few boards that came with motors this size. Since then, however, 350W-sized motors have almost become the industry standard.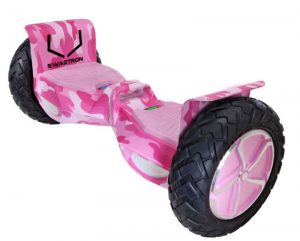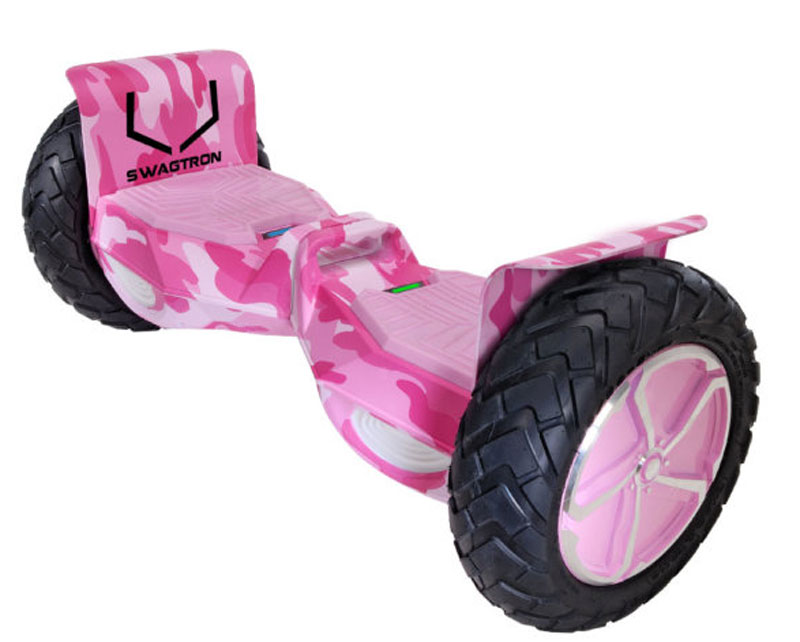 It also has a carrying handle strap (which is built in), making carrying this puppy a breeze… as long as you don't carrying 20+ lbs. while you travel. On the plus size, your muscles will be getting a small workout from carrying it. Who doesn't want bigger muscles that help you look better?
The price of the Swagtron T6 may damage your pockets, though. The sale price is ~$500, which is considerably steeper than other self-balancing scooters such as the SagaPlay F1 ($~400)… but a lot less expensive than the Halo Rover ($500-600).
Personally, the board redeems itself for this steep price by being an all-terrain, off-road board. This means you can take it over uneven surfaces (such as your backyard or an uneven grassy field), through environmental debris like sand, pebble, and dirt, and even up small grassy hills (as long as they're no steeper than 30 degrees).
However, the Swagtron T6 costs around a hundred dollars less than other off-road scooters. For comparison's sake, the Halo Rover costs $599.00 and the EPIKGO costs $599.99. So the $500 price tag is a real bargain, when you consider that this board can take you places that other, on-road-only scooters cannot. (Imagine taking the Swagtron T6 out for a wonderful secluded picnic in a park at dusk with just you and your spouse. You can't find that type of opportunity with road-only self-balancing scooters.)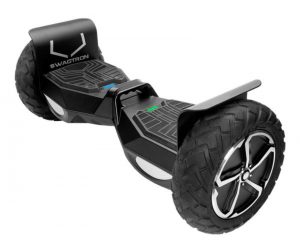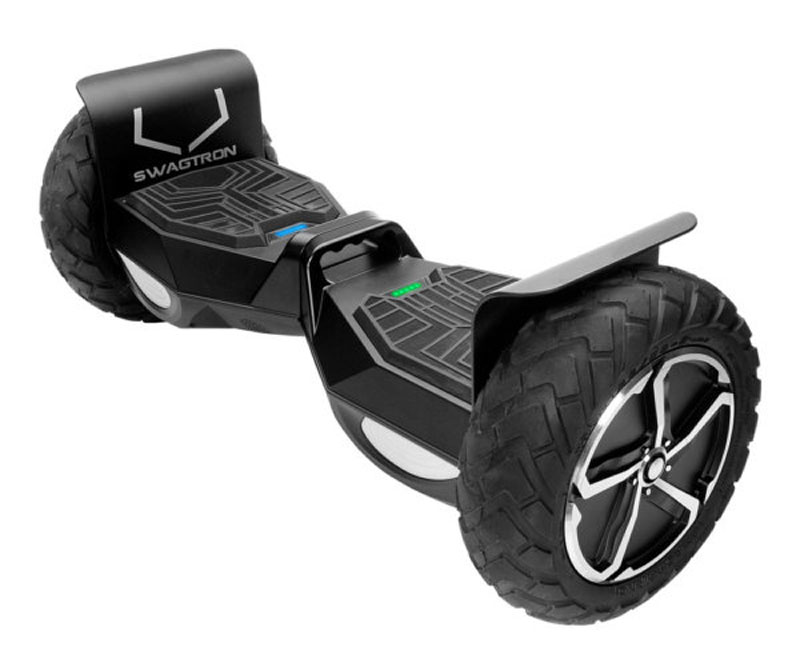 The price tag is even more surprising when you learn that the T6 comes equipped with Bluetooth. All you have to do is download the Swagtron app on Google Play or the App Store, and you're good to go.
From the app you can control the speed of the board, the battery's power level, and how many miles you've traveled so far. The real beauty of Bluetooth connectivity is that you get to play your own music as you ride (and you can even control the volume if an embarrassing "guilty pleasure" song pops up. I'll admit that I quickly hit the mute button once I heard Limp Bizkit's "Keep rollin' rollin' rollin" randomly pop up.)
Initially, in the hoverboard world a great number of people worried about the visibility factor of people who rode/ride hoverboards at night. While most manufacturers addressed this concern by installing LED lights in their products, the Swagtron T6 comes packed with flashing LED diode lights that blast a staggering 6.5' of light in both directions. (By comparison, most boards have lights on either the front or back of a board – but not both sides. This is amazing in and of itself.)
The Swagtron T6 is amazing for yet another reason: how much it can carry. While most of today's boards carry the industry-standard maximum of 220lbs… the T6 carries double that weight. Being able to carry 420lbs. is a proud claim Swagtron makes, and they aren't the least bit shy about it. Finally, a board that lets 220lbs.+ people get in on the phenomenon of hoverboards.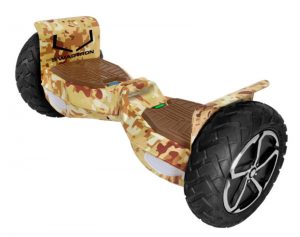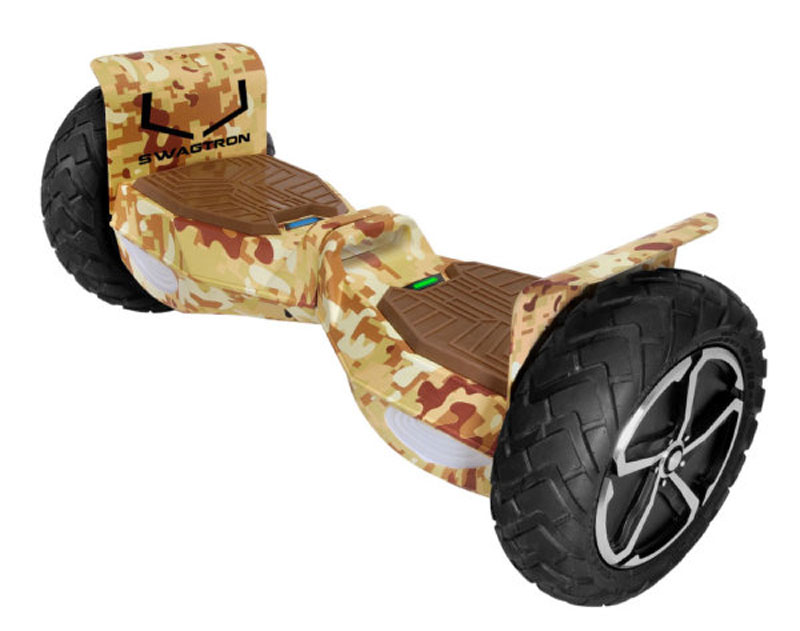 Swagtron's previous scooters carried sufficiently less pounds: The T5 carried 187 lbs., and the T3 and T1 carried 220 lbs. It's easy to see that the T6's maximum capacity of 420 lbs. total weight is a phenomenal upgrade.
Another area Swagtron isn't shying away from is their advertised speed. Most boards clock out around 10mph or so. The T6 goes the extra speed and lets you travel twelve miles an hour. That puts the T6 up there with one of the fastest boards on the market. Additionally, you can expect to travel up to 11 miles, whereas most boards today can't travel 9 or 10 miles before having to recharge the battery.
On a lighter note, think of how many times you'll be asked what you're riding. You can put on your cool Ray-Ban shades and, in a low hush, say "Swagtron, baby" then ride off into the sunset. (Let's be honest, Swagtron is an awesome name.)
You Can Also Try Segway-Style Scooters: