New to the hoverboard universe (released only a year ago), the EPIKGO self-balancing scooter (there are 4 classes: classic, sport, sport+ and premier) looks almost nothing like it's competition: by this, it's easy to see how seriously badass this hoverboard looks.
It's not hyperbole in the least to say that the EPIKGO introduced itself with a bang: it is a massive beast. (In this review, we'll be taking a look at the Classic class.)
In so many words: this thing looks like a tank. You yourself may not enjoy its aesthetic, but I personally find it downright sexy to look at.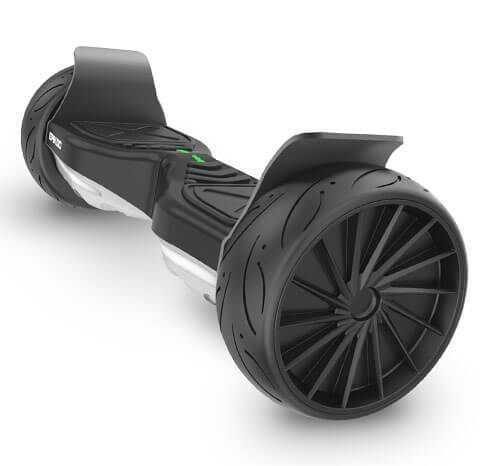 However, we know that looks are deceiving. Let's remove the stars from our eyes and go through an in-depth review of the EPIKGO.
Dual motors provide 400W of power. Even one 400W motor would make this thing a powerhouse – as the industry standard is usually dual 350W. But the EPIKGO has two 400W motors, totalling 800W. (Do you see what I meant by this thing being a beast?)
Right off the bat, with dual 450w motors the EPIKGO separates itself from the hoverboard pack.
EPIKGO states that the dual motors gives their self-balancing board an ability to climb 18-degree inclines – and chugs along paved surfaces at a staggering ten miles per hour – for one full hour (in one go).
Compared to other boards, 10 mph for a board is no joke. Here is a speed comparison to 3 other popular boards:
The EPIKGO hoverboard's tires (8.5" alloy) made of solid rubber – threaded to track through "tough" terrain (such as gravel roads, pebbled paths, sand, etc.), whereas other, pavement-only boards—by design—are forced to paved surfaces and pathways.
However, in order to handle this "extreme" terrain, a big board is needed – which the EPIKGO certainly is. The company itself made the claim that it's 30% larger than competing boards.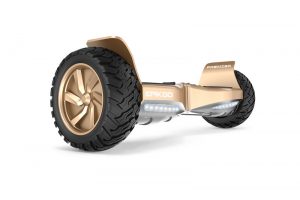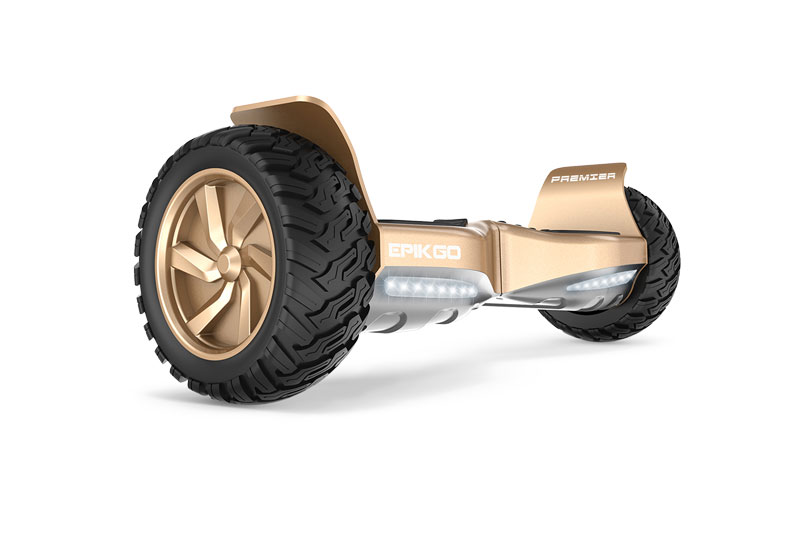 Now, it goes without saying that a size of this magnitude may be troublesome for some people. Such as the inability to travel on certain, smaller sidewalks. And it also gives cause for concern for "taking it for a spin" in the hallways of your home. And you shouldn't attempt to, as the EPIKGO was specifically designed for outdoor use.
Regardless, the monstrous size (with an ABS body chassis) is perfect for you if your feet are larger or if you need more maneuver space while riding.
It also goes without saying that, a board this size is heavy: 31 pounds. You could even use this heavy board for a quick lifting workout (such as 3 sets of 12 reps) that will get your blood flowing and your muscles burning. It's almost as heavy as some kettlebells out there!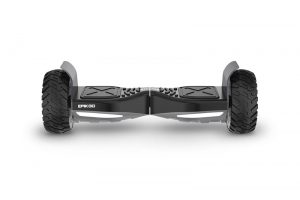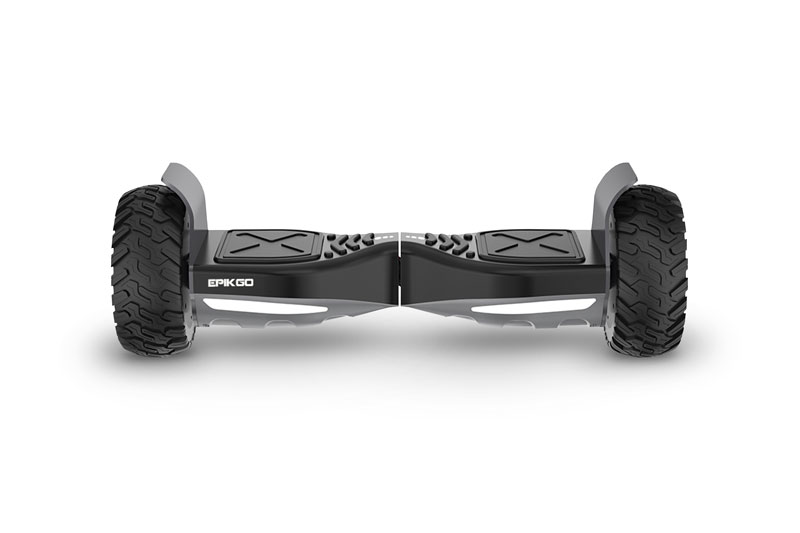 In fact, the heavy weight is almost necessary, and not a drawback at all – since it IS an all-terrain vehicle, and can trail through snow, mud, sand and grassy feels with little to no problems. (It's a fact that off-road boards are generally more expensive than their pavement-only counterparts.) With the heavyweight, you're almost guaranteed to go over "rough" terrain with minimal problems, and the board won't struggle along to endure terrain it's not meant to.
A poor circumstance is that a lot of riders automatically assume their pavement-only self-balancing scooter can be taken off-road. Only to quickly discover, upon being launched off their board (or worse, the board malfunctions), that it really is called "flat-surface board" for a reason.
That isn't to suggest the board is "all rugged, all steel." Far from it. The frame is actually made for aluminum, making it feel rather light (in contrast to its rugged durability exterior.) It's also worth noting that its aluminum frame is in stark contrast to other boards made in cheaply-feeling plastic and metal.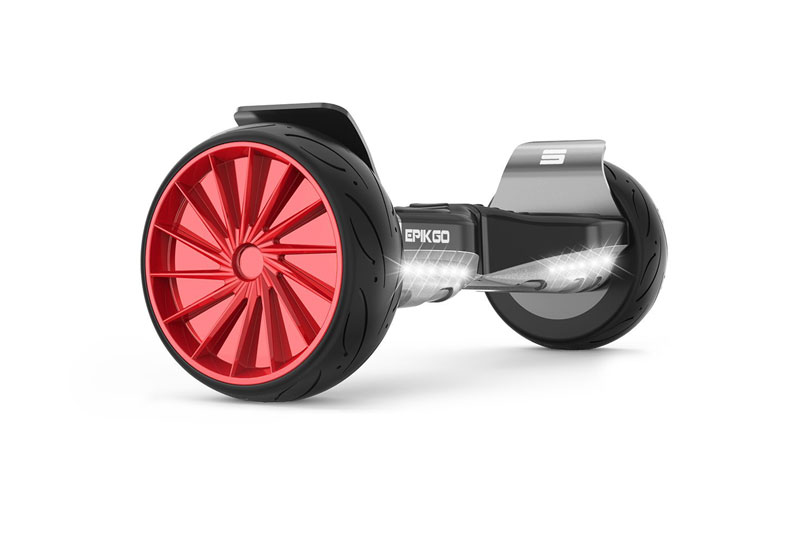 Despite the "lightweight" frame, the board itself can hold a hefty ~256 lbs. It also has LED turn signals (which is, needless to say, incredibly useful for nighttime riders out for a leisurely stroll), as well as LED headlights. The weight capacity holds roughly 30+ more lbs. than other hoverboards in the same weight class. No corners have been cut with the all-terrain EPIKGO.
However, like many hoverboards, the time it takes the battery to charge could use some improvement. Comparable to Smartphones and wireless AA batteries, it takes ~2-3 hours for the battery to charge. (Which is perfect if you have nowhere else to go when you're out and about for a stroll.) For those of us who tend to have busy days, the long time it takes to charge a battery could be improved in the future with updated versions.
However, considering how much of an all-terrain "monster" the EPIKGO is, the long charge time isn't a major drawback.
As is the case with other boards, the EPIKGO's received a UL2272 certificate. Hoverboards with this certificate are completely safe to operate, as they passed hundreds of safety and electrical tests. The UL2272 was designed to make safe hoverboards that didn't explode on people or catch on fire – the main reason a lot of average consumers steered far away from hoverboards. With the UL2272 certificate, a board cannot legally be sold in the United States unless it has the certificate.
The price, on the other hand, shows that this board isn't for the average consumer who is merely looking for a fun time – and is for diehard enthusiasts who will use this thing everyday. On Amazon it goes for $510-600. The product on EPIKGO's website lists it at $700.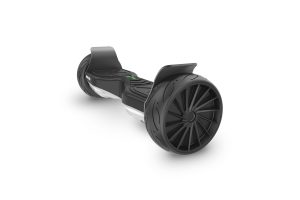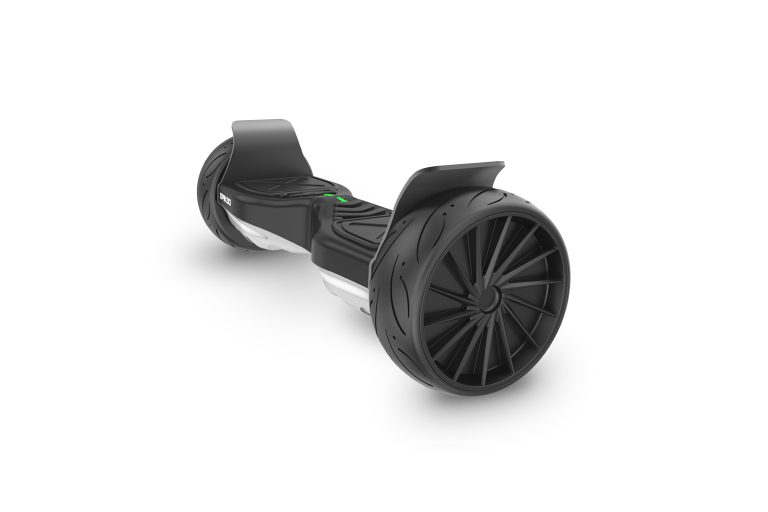 Clearly, this electric scooter is for die-hard enthusiasts who love to look like an awesome force to be reckoned with. (It's hard not to ride this thing and think: "I'm a government agent. Special forces. I dare you to mess with me.)
If I could spare the money, the EPIKGO self-balancing scooter is personally the one I would choose… and wish I saved up the money to buy. It's true: you honestly get what you pay for, and we just found out that the EPIKGO doesn't fail to live up to its hefty price tag.
Checkout The Following Self-Balancing Scooters As Well: