The Halo Rover has 3 rider settings (beginner, intermediate, advanced) which controls the speed. These settings can be accessed and changed thanks to the Halo Rover app (included), so you can design your riding experience based how you want to ride.
This board is UL2272 certified, meaning it has passed an endless array of severe electrical and safety tests. It will not explode (which is many peoples' fear when it comes to self-balancing hoverboards), catch fire, or injure you in anyway when you're riding – injuries happen because riders do not exercise caution and accidents happen.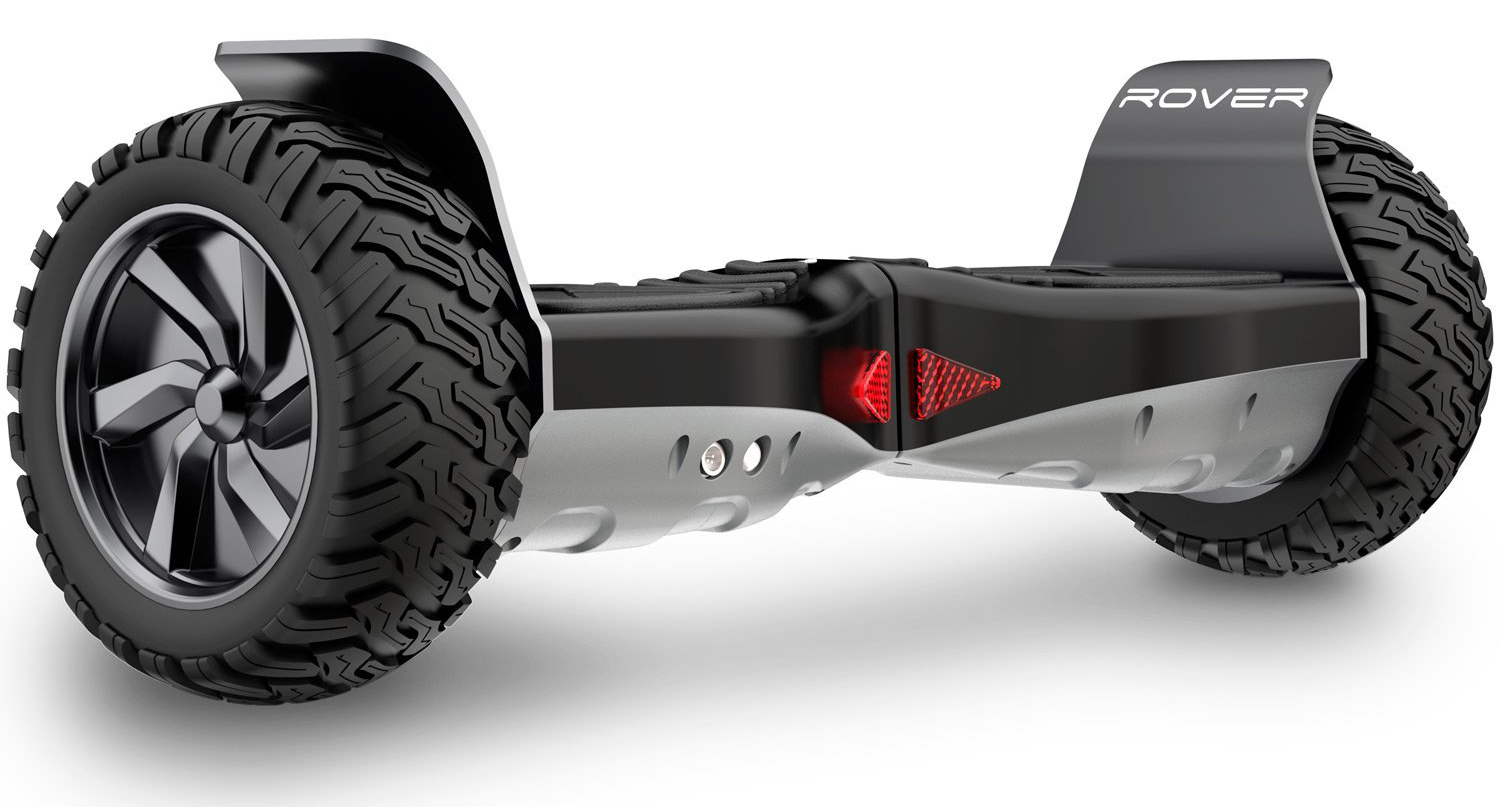 Now, on paper 9 mph (which is the Halo Rover's top speed) may not seem very fast. Once you actually get on the board, however, the game changes. ~9 mph is fast for a hoverboard, and you will slip and fall cruising along at this "small" speed if you don't know how to effectively balance on hoverboards. As with anything, however, the more you practice something, the more efficient you become at using it. Riding hoverboards is no different.
When you want to monitor and change the Rover's speed, distance traveled and power, you can hop on the hoverboard's smartphone app and change any setting at any time as you see fit (you can even change the steering sensitivity), all from your smartphone. While this is standard practice in many hoverboards, it's still an incredible feature to keep in mind and have.
While you're fiddling around those settings, you could also enable the Bluetooth-accessible option of playing music from your smartphone. (This Bluetooth option is common in a lot of premium priced, high-quality hoverboards.)
One drawback (which goes for almost every self-balancing scooter) is the fact that it doesn't come with a "training course" DVD. To learn how to ride a scooter, there's nothing you can do except actually ride it. This is what makes the learning curve so steep for riding hoverboards correctly (and safely). However, there are plenty of tutorial videos on YouTube that you can review before stepping on your first board. Although it would be nice if tutorial videos were included in the shipping package.
Luckily, the learning curve isn't steep. (Most hoverboards aren't, once you get the initial hang of things. Like riding a bike for the first time, for example, or mounting a skateboard.)
Most hoverboards are for flat-surfaces only (such as the floors in your house or paved streets), which is fine for most people. These flat-surface-only boards make sense for beginners or riders out for a leisurely stroll. However, for "adventure seekers," an all-terrain self-balancing scooter like the Halo Rover is MORE than ideal. It can travel through mud, slush, sand and even snow.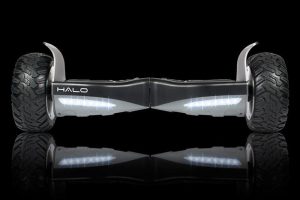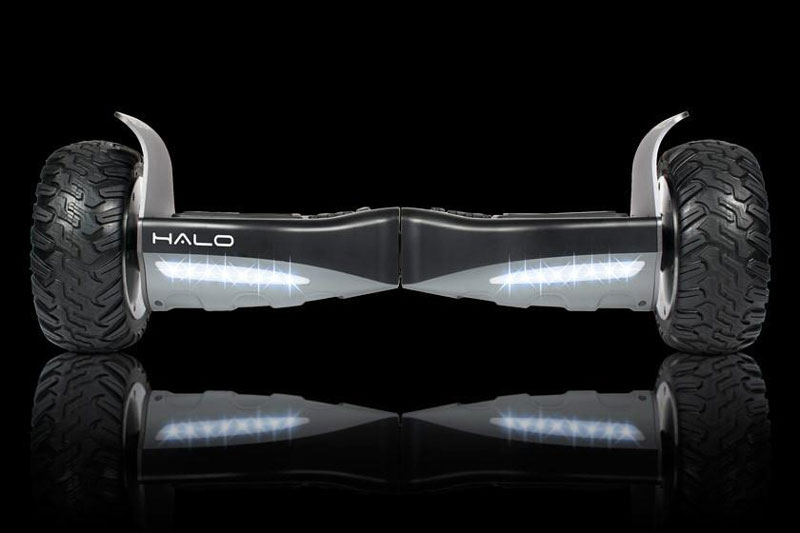 This is thanks to the 8.5 (diameter) inch tires – an inch and a half thicker than the industry standard size of tires. The Halo Rover is also rated IXP4 water resistant – meaning you can take it out in light-raining weather or light downpour. (Know, however, that it is water-resistant, NOT waterproof. If submerged in water, or if it meets too much water, the board will short-circuit.)
A beautiful advantage the Halo Rover has over most other boards is the fact it travels up to 10 miles (~16 km) on one battery charge! It takes roughly 2.5 hours for the battery to fully charge. While it may seem like a lengthy charge time, keep in mind that being able to travel 10 miles on one charge is no small feat.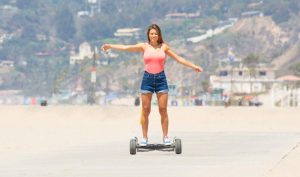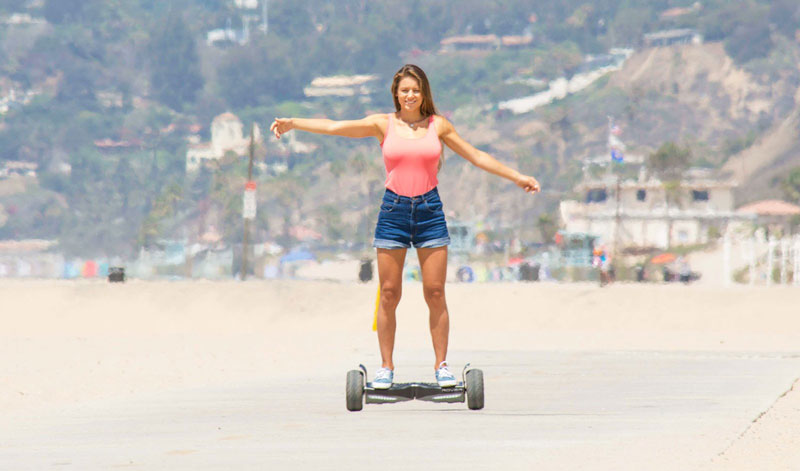 However, in order to be such a successful off-road machine, the board had to be made the right way. That means the scooter is forty-five pounds. This is not a lightweight toy by any means. The 45 lb. weight means you'll get an exercise if you carry it for any length of time – the beauty of it, though, is you can use the Halo Rover as a "dumbbell" if you ever decide you want to lift some weights. (The manufacturers made a wise decision to use aluminum material, in my opinion. Otherwise the board would be even heavier!)
The weight isn't a carrying issue, however, since the package comes with its own carrying case to make travel faster, easier, and less heavy. Just keep in mind how heavy this thing is when you're buying, as most people (myself included) have trouble lifting just thirty pounds for any length of time.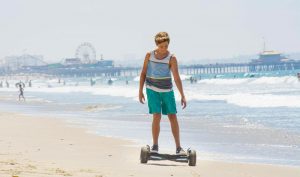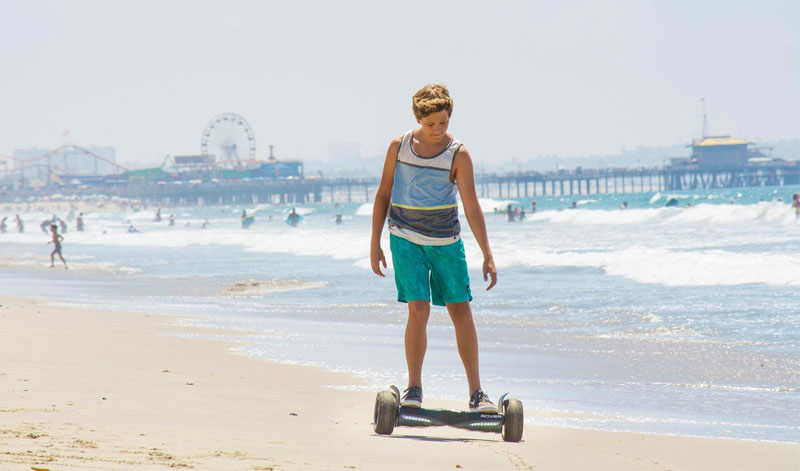 But… and this is a big but… the casing around the foot pads is not covered under warranty. Which is silly, considering the casings are the most vulnerable parts on the board! They're constantly susceptible to foot damage – and are made of cheap plastic. Major drawback here. One user, whose foot pad casings cracked, reportedly had to shell out $150 (from his own pocket) to have them replaced. Be aware of this if you're purchasing the Halo Rover.
(On a side note, one mother reported that her children made her "Mom Of The Year" for buying this – making the sale price (and any extra prices) worth the cost.)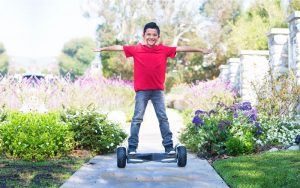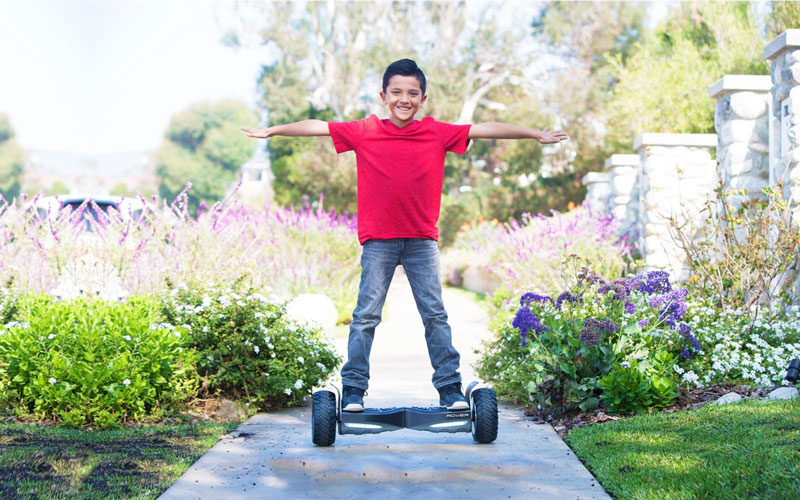 That cost, however, is not for the faint of heart: $599-$600. At this price it is a serious investment into happiness and the amount you're willing to pay to get more out of life. Part of the reason the Halo Rover is so expensive is due to its off-road capabilities. Most "street version" boards' less-expensive price tags (such as the Sagaplay F1 – ~$380-400) is because they are for flat, paved surfaces. By design, the Halo Rover is designed to endure snow, sand and uneven surfaces, hence the hefty price tag.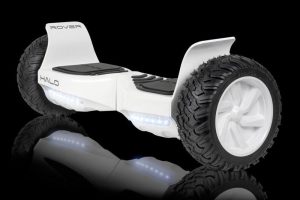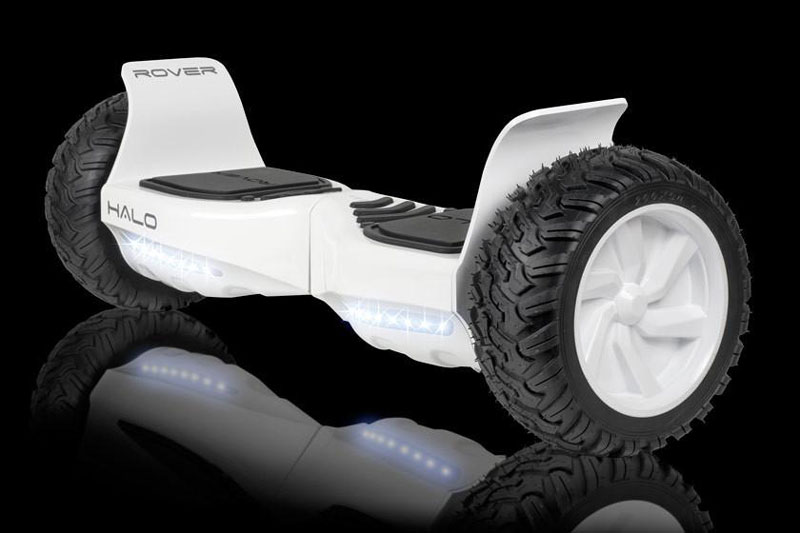 I cant keep up so I keep it in Intermediate mode, which is faster than a walk, but slower than a run. I mean 10 mph, thats fast when you actually get going. So far, I love it, the speaker is a cool option, however Id liken it to my 1970's style AM/FM radio speaker. Yes it sounds perfectly fine, but its not STEREO-if it is then its not that great, which is what almost everything is these days.
However, if I had to do it all over again, I think I would just get the normal street versions. The off road just adds to the possibility of an emergency room trip.
Don't Miss Out the Following Hover-Boards As Well: