In this day an age, self-balancing scooters are almost synonymous with "time-saving." In so many words, they're a blast to ride and can take you where you need to go (as long as it's within a reasonably "short" distance). They are a great investment for college students who don't feel like walking or riding bikes to and fro their dorms to classes. They're also a tremendous gas saver for people who want to take a quick trip to the grocery store – but don't want to use up their car's gas in the process. (Thus saving gas and money for more important, long-distance trips.)
The "exploding rise" in Hoverboard popularity is largely thanks to worldwide-famous celebrities like Justin Bieber and Wiz Khalifa showing their mighty riding skills on social media (YouTube, Instagram, Vine, etc.).
Also worth mentioning is the fact that self-balancing scooters are an exercise, in an of themselves. When you're riding one, you're physically forcing yourself to stay upright as you maneuver forwards or backwards.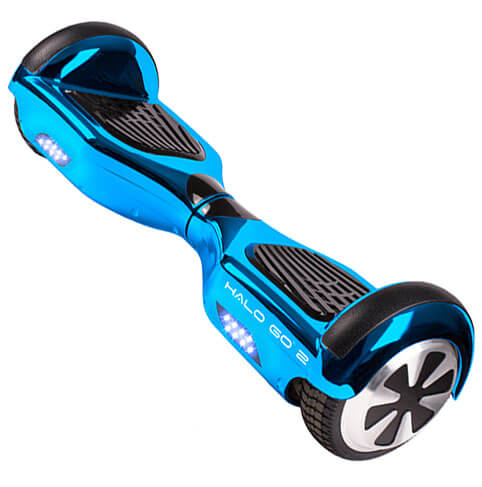 It wasn't until some time in 2016 that manufacturers started slashing prices on their self-balancing scooters. As they were too expensive for most consumers (initially), the decision to make them more affordable was a wise decision. Thus kicking off the "Hoverboard Domination" craze that's sweeping the nation. (Seriously, at least every week I see somebody riding one!)
The Halo Go Hoverboard is no different. Let's take a look at why this Hoverboard is worth investing in:
Right off the bat, let's talk about how it is UL2272-certified. This means the board surpassed a grueling amount of electrical and safety tests – issued by New UL. New UL is a company specifically testing Hoverboards out to ensure their safety for consumers. The company was formed as a response to the amount of electric scooters catching fire (a lot of which were due to faulty/low-quality batteries) when they were first introduced to the public in 2015.
Quite simply, any board with a UL2272 certificate is safe to ride, as it passed hundreds of industry-standard tests. (The certificate is even shipped inside the Halo Go shipping package!) Any board without such a certificate should be bought and ridden at your own risk.
The Halo Go Hoverboard uses Samsung's UL-certified Lithium-ion batteries (quickly becoming an industry-standard choice). Samsung is a company world-renown for high quality products, and the decision to use them in Hoverboards only farther ensures safety.
What this all means is this a quality board for beginners and somewhat-experienced riders alike. What is a really nice touch is that the "Halo Guards" protect the board from (inevitable) scratches when you fall. Also a nice touch is the inclusion of Bluetooth speakers – meaning you can simply link up your Smartphone to the device, and play all your favourite tunes while you ride. (Which is GREAT fun if you have a personal theme song.)
What this battery does is give the 500W electric-power motor juice so you can ride, ride and ride. When you go on your adventures, it's worth remembering that the battery lasts ~2 hours. This is an exceptional duration, as most popular Hoverboards go up to an hour (in one single, continuous riding session). 2 hours of battery time is definitely an improvement. When the battery is low and it's time for recharge, expect anywhere around 2 hours of charging time. This "waiting period" is typical for most Hoverboards.
(Keep in mind that the battery depletion rate depends on how fast you're going, and for how long.)
At top speeds, the Halo Go cannot go faster than 7mph. This is by no means a slow speed for Hoverboards, and in fact is almost the average top speed for many electric scooters. For comparison's sake, let's look at 3 other popular boards and their top speeds: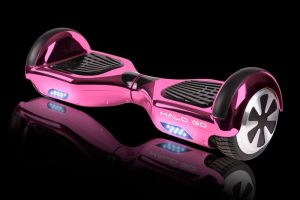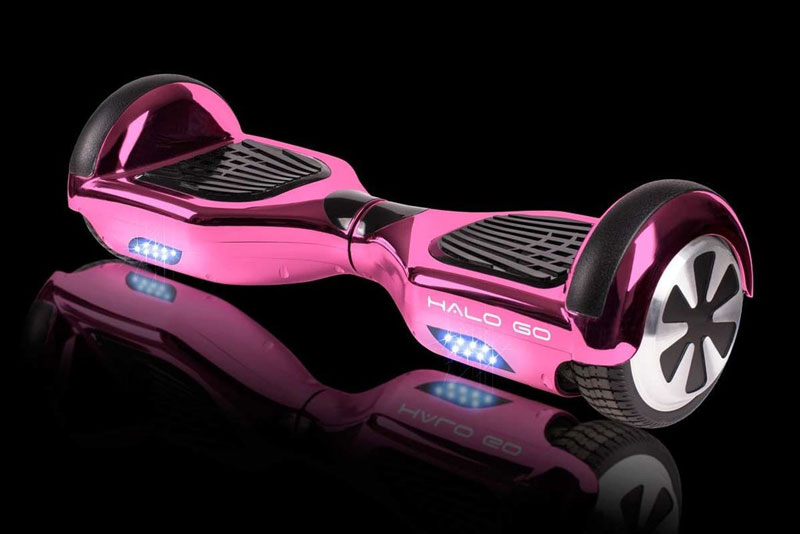 Let's talk about something that still blows my mind: distance. The Halo Go Hoverboard can take you up to 12 miles (if you're willing to travel that far in one riding session). This seems to be the average distance that other boards can take you, as well. It's mind-boggling because you never consider how small these electric devices actually are.
The reason it can travel so far is due to it's "small" tires. At 6.5", this board was specifically designed for flat, pavement surfaces only. I've found that off-terrain Hoverboards, while they have more power (by necessity), cannot travel as far as flat-surface-only boards. Even then, actual distance depends on how much you weigh.
The Halo Go in particular can carry up to ~220lbs. So it is by no means designed only for light people. I myself weigh a hefty 180-190 lbs., and step on these things without worrying at all about breaking it. What's even more remarkable is that it can carry this weight… while the board itself weighs roughly 22 lbs., making it light enough to carry if you ever feel inclined. Whereas most "road-only" boards weigh anywhere between 25-28 lbs., this difference in weight makes it easier for quick turns and smoother rides for you.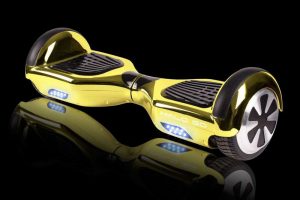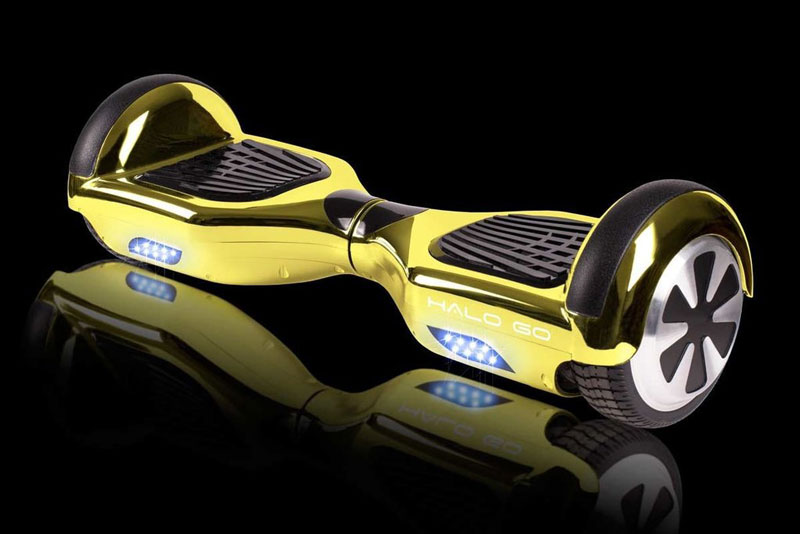 For night-owls and night riders who want to go on a trek while the moon's out, the Halo Go comes equipped with front LED lights. Along with wearing a fluorescent (or shiny) shirt/pants, the LED lights also dramatically increase your visibility to oncoming traffic and pedestrians.
It's worth considering that the price of Halo Go may hurt your pockets. At $497 (on Halo's website), it certainly isn't as expensive as other boards – Halo's other hoverboard, the "Halo Rover" goes for $500-600. However, the "Go" is nearly $100 more expensive than other boards, such as the SagaPlay F1 (~$400 on Amazon).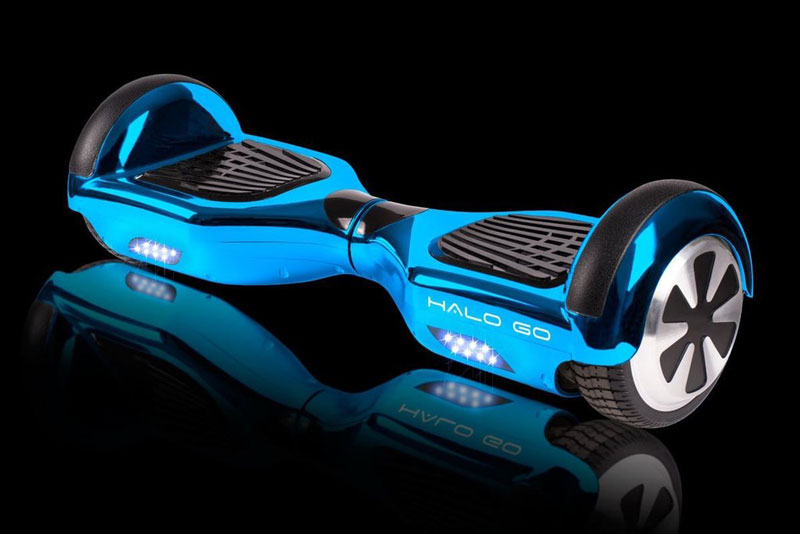 If sale price isn't an issue, there is virtually no wrong choice when it comes to buying a Hoverboard – as the most popular ones are popular for a reason. They are durable, well-built, stable and (most importantly) safe. Halo is a reputable company with a small line-up of Hoverboards on the market right now, and their incredible "Go" boards makes me anxious to see what they'll do next.
Also Checkout the Reviews of Other Self-Balancing Hoverboards: