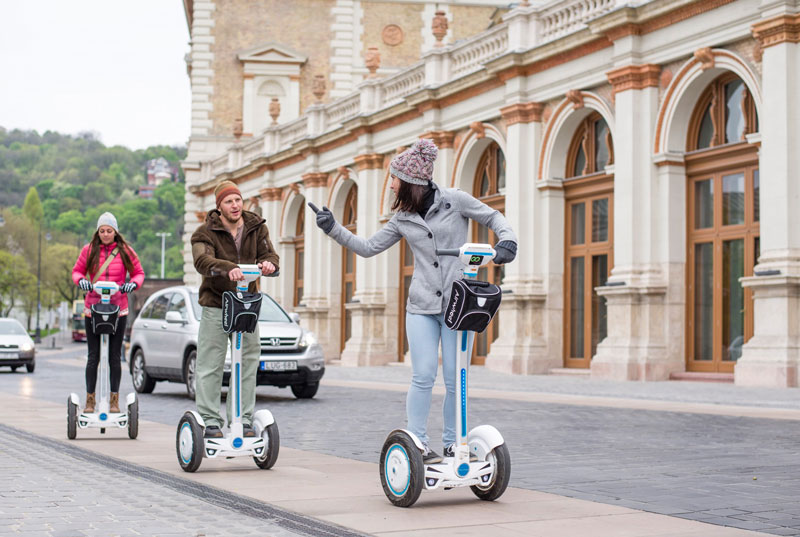 It's no understatement to say that Airwheel has been a busy company these past few years. In just a few short times they've released a series of Segway-styled, 2-wheel self-balancing electric scooters that you can sit on and ride as far as your heart will take you. They have the S3, the S5, S6, S8 and A3.
For scooter enthusiasts, I imagine choosing just one is the equivalent to the troubles fashionistas have choosing shoes. Or, for PC geeks (such as myself), the equivalent to picking out the right CPU. Today we're going to take a look at what separates these five machines and help you figure out which one is the right scooter for you.
Similarities
The similarities between all these Scooters are as follows:
Bluetooth-compatible
16" tires
Aluminum alloy frame (lightweight yet sturdy)
Leather-woven bicycle seat (so you can sit down while you ride) *
Battery protection redundancy system
State-of-the-art Lithium-ion battery
The Airwheel S3 is their "first" self-balancing Segway-styled scooter, released in 2015. Airwheel's S3 scooter can take you for a leisurely stroll up to 18-21 miles (30-35 km). Depending on how fast you want to go, you can expect to travel between 6-11 mph (which is 10-18 km/h). While this speed and distance is by no means above average, they are great for people who want to have fun while remaining safe.
At 22 kgs. /48 lbs., this machine isn't light, and could be a hassle to carry whenever you can't ride it anymore. Luckily, the tires (compared to the other machines in this review) are considerably smaller, so carrying isn't an issue.
Now, don't quote me on this next bit, as I'm not entirely sure of the factuality, but I'm pretty sure the Airwheel S3 was one of the first Segway Clones with turn signals (installed on the back). Whether or not that's the case, the fact remains that this added feature makes it safer for you to ride around at night, signalling to other traffic which way you intend to turn.
What's also cool is the S3 is an all-terrain scooter, meaning it could ride over environmental debris with ease.
Sells for $1,399.00.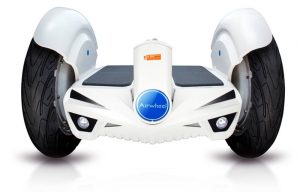 The S5 is the S3's upgraded, more powerful brother. Airwheel made it so that the S5 could ride over rougher terrain such as sand, snow and hiking paths, etc. more efficiently than the S3.
Also new to the S5 is the fender holder – a safety feature exclusive to Airwheel. This fender holder prevents the machine from being dinged up during accidents and collision spills.
Now, the S5 is 34 kgs. /74 lbs. It's not hyperbole to say that this thing is heavy. It has to be, in order to cover rough-and-tumble environments with even more ease than the S3.
Someone is selling the S5 for $1,799.00.
The S5 can take you as far as 31 miles (50 km) on a single battery charge.
*The S5 is a standing scooter with a steering column.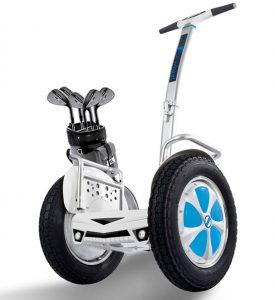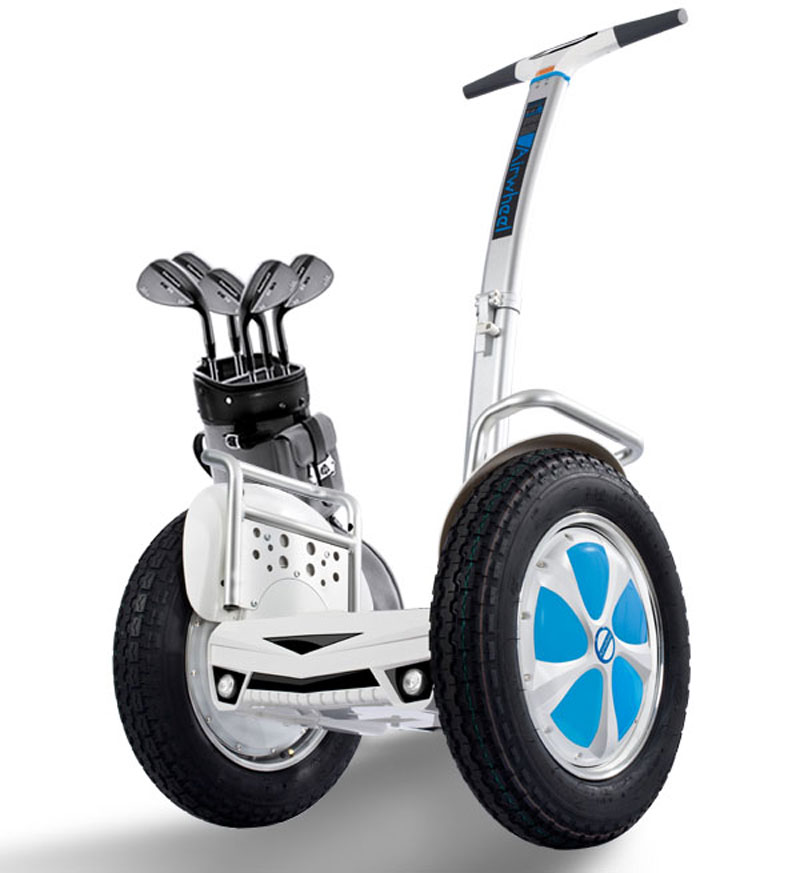 I like to call S6 "Mr. Safety" because it is loaded with more safety features than other scooters. For example, their dual-core redundant system keeps the machine running even if one of the components shuts down. Although this feature isn't new to the S6, it is an upgraded feature to maximise rider safety.
Aesthetically, it's more "alien-like" and minimalist than previous versions, which makes it perfect for lovers of the sleek, modern style. You simply sit on the seat and use your feet to steer.
The S6 weighs in at 34 kgs. (74 lbs.), which is the same as its S5 predecessor. It can hold up to 99 kgs. (220 lbs.) without slowing down.
Expect to "blaze" down the road at a whopping 11 mph (17 km/h) max. This is by no means a slow machine – and in fact is considerably fast given how heavy it is.
Expect to pay $800.00 for the S6.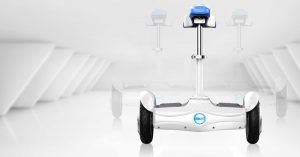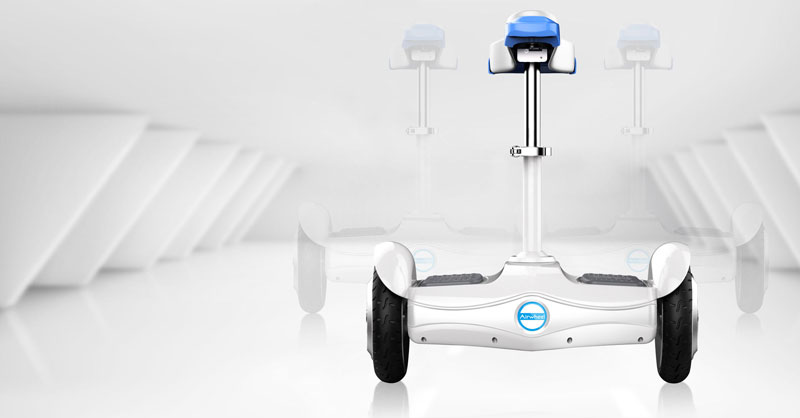 At 31 lbs. (16 kgs.) total, Airwheel tremendously improved their S8 over previous versions. The S8 isn't as heavy as other scooters in the S series. Since it's such lightweight by comparison, it can only carry up to 220 lbs. (100 kgs.) max.
However, precisely because of its lightweight it's able to reach a total of 11 mph (17 km/h) – which is on average with other scooters in the S-series line up.
What separates the S8, above all, is its Maglev motor: which is advertised to make the machine more powerful while consuming less energy – which drastically reduces how much juice the battery uses.
Price unavailable.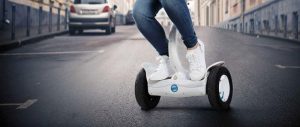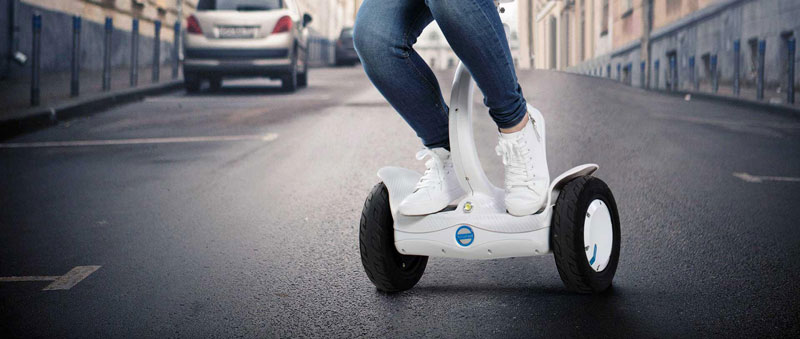 The A3 reaches a top speed of 11 mph (19 km/h). Airwheel's mission isn't to make the fastest, nor the longest-riding scooter on the market. Instead, their primary focus is on keeping riders safe. That said, you can expect to travel a max. distance of 40 miles (65 km), which is a tremendous feat. Not just because of how far 40 miles actually is, but because it can take you this far on a single battery charge (depending on your weight, the road conditions and machine temperature).
If you're under 264 lbs. (120 kgs.), the A3 can take you where you need to go without a problem. Any over, though, and you'll notice some severely slowed-down riding.
Now, I'm not sure if this is a new addition or if other scooters have this feature… but the A3 comes with a kickstand. How cool is that? Now you don't have to lean it against anything and possibly damage the sexy polishing and shell (made of nano-mixed materials). Plus, it's a weird hybrid: you can sit on the seat and use the steering column to steer.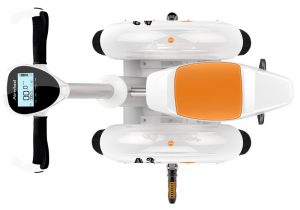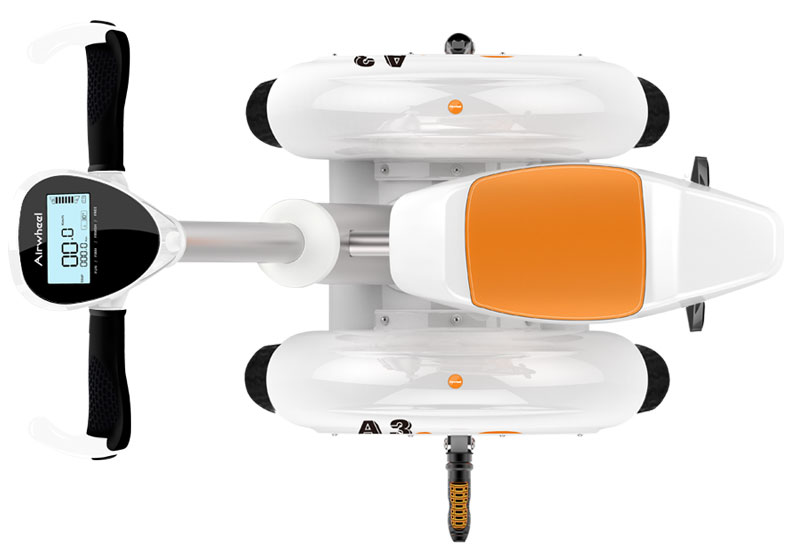 It also comes with several safety features (such as overcharge protection, overcurrent protection, battery equalisation, over-discharge protection, etc.) that is not wholly new to the Airwheel product line – but it's incredibly relieving knowing that Airwheel hasn't abandoned the safety of their customers.
Price unavailable.
Conclusion
I hope some of the fog has been cleared when it comes to purchasing an Airwheel scooter. It goes without saying, but I'm going to say it: From what I've seen, you simply can't go wrong with any of these machines. They are all safe, reasonably priced (for the value you're getting) and you're guaranteed to have fun.
If You Want To Buy A Segway Scooter, Check: